Massage, Reiki, and Reflexology
The military is increasingly using massage, Reiki, yoga and other complementary and alternative modalities to ease combat stress and the effects of PTSD, however the demand for these modalities far exceeds the current military capabilities. The Cause Massage, Reiki, & Reflexology program is designed to help fill this critical gap. On average, Cause provides over 800 massage or Reiki treatments annually to wounded warriors and their caregivers at no cost.
All of our participating therapists and practitioners meet all relevant state credentialing requirements* and have attended an additional orientation focused on the special needs of military wounded.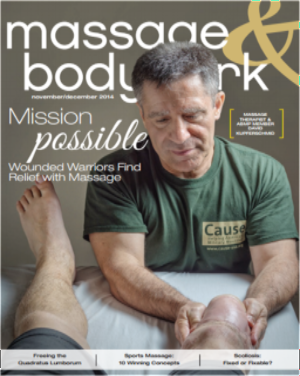 How Does it Help?
Massage

Massage therapy can help manage pain, reduce stress and anxiety, enhance function and promote relaxation and well being.

Reiki

Reiki is a Japanese technique for stress reduction and relaxation, promotes healing and is used to relieve disease related symptoms and the side effects of conventional medical treatments.

Reflexology

Reflexology helps the body return to its natural balance by stimulating reflex points on the feet, hands and ears which correspond to the body's organs and structures.
Where is it Offered?
The Cause MRR program is currently offered at the following locations:
Walter Reed National Military Medical Center
 
Fort Belvoir, VA
How Can I Book an Appointment?
Cause now offers online scheduling for Massage, Reiki, and Reflexology appointments at all locations (eligibility restrictions apply). CLICK HERE to learn more.
*All Cause massage therapists must present evidence of licensing by a state/national board unless licensing is not required to practice a modality. In such an instance massage therapists must hold relevant credentials. Massage therapists must have a minimum of 500 hours of massage therapy education with specific training in deep tissue and seated chair massage or have received appropriate education and training relevant to the practice of energybased modalities. Massage contractors have Health Insurance Portability and Accountability Act (HIPAA) training. Reiki is exempt from licensing and practitioners receive a Reiki certificate from their teacher. Cause requires Reiki practitioners to have practiced Reiki for a minimum of six months before joining the program. We require Reiki practitioners and massage therapists to have liability insurance. Our massage therapists and Reiki practitioners are aware of injuries service members have prior to the treatment.
Resources for Recovering Veterans and Caregivers
Looking for help? Resources and Assistance for Warriors, Caregivers, and Families can be found here.