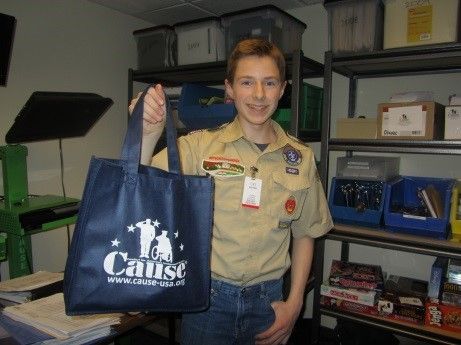 Fairfax, VA (April 18, 2016) – Many middle school students choose to donate service hours with a local church, school, library or other community organization. Stephen Everard of Rocky Run Middle School opted to reach out to wounded, ill and injured service members and their families at Walter Reed National Military Medical Center in Bethesda, Maryland.
Stephen contacted Comfort for America's Uniformed Services (Cause) to offer his time helping with office work, administrative support and our special event programming. He organized and put together gift packs for Caregivers and Service Members, completed our quarterly office inventory, and even helped count and label our Volunteer Recognition pins in preparation for National Volunteer Appreciation Month.
The highlight of his volunteer service was assisting with Family Fun Night at Walter Reed on April 14th. Stephen was able to interact with service members and their children as they completed craft projects and played games.
Stephen is no stranger to public service—he is also an active member of Boy Scout Troop 577 in Clifton, VA.
"We are thrilled Stephen chose to work with Cause and support our mission to help service members and their families," said Kayla Walsh, Cause Program Director and Volunteer Coordinator. "It is a large part of our mission to interact with our service members and make sure they realize that citizens in our community recognize their service and sacrifice. Youth Volunteers like Stephen exemplify our core values!"
###
If you would like more information about this topic or to schedule an interview, please call Cause at 571-465-6048 or e-mail trudacille@cause-usa.org.
www.cause-usa.org
http://www.facebook.com/helpwoundedwarriors
http://www.twitter.com/@helpwarriors