2021 London Award Ceremony Highlights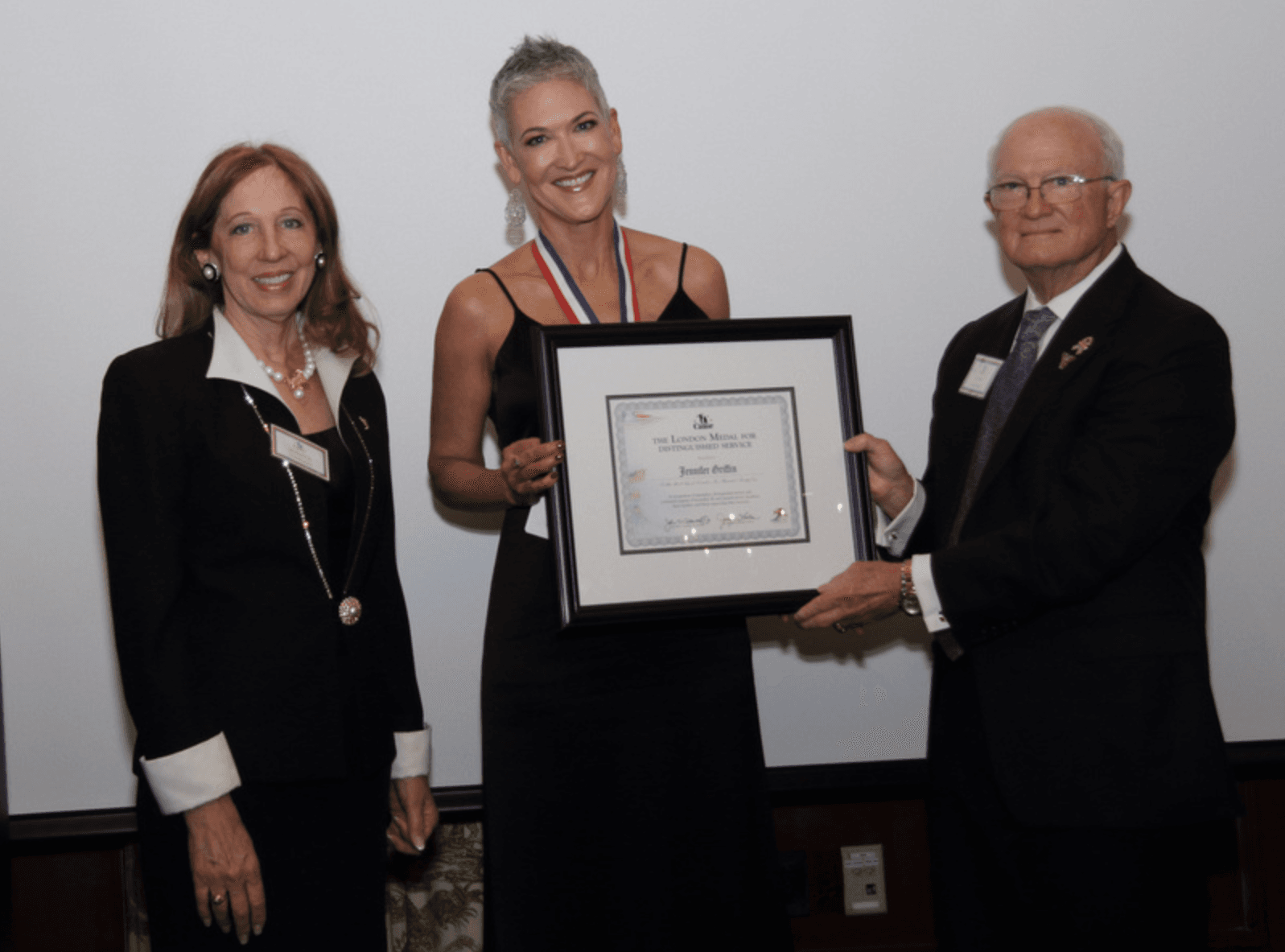 On the evening of November 6th, 2021, Cause board members, supporters, and beneficiaries came together at the Army-Navy Country Club in Arlington, Virginia for an evening of gratitude and celebration. After 18 wonderful years of providing services and programs to recovering wounded, ill, and injured services members and their families and caretakers, Cause is nearing the completion of its mission. This evening was a time to commemorate the tangible and intangible successes of those activities.
President John Caldwell spoke, a slideshow of 18 years of Cause photos was presented, food and drinks were consumed, and the final London Medal was awarded.
The London Medal is the highest honor given by Cause to an individual who has supported the organization through the years. This year, for her history of service and advocacy, the Medal was awarded to Jennifer Griffin, who has been the emcee of the Cause Galas for the last 14 years.
Jennifer Griffin Bio
---
Jennifer Griffin currently serves as a National Security Correspondent for Fox News Channel (FNC) based out of the Washington D.C. bureau. She first joined FNC in 1999 as a Jerusalem-based correspondent after three years reporting from Moscow.
During Griffin's tenure at FNC, she provided coverage of Operation Enduring Freedom; the deadly 2004 South East Asia tsunami from Thailand; the Israeli-Palestinian conflict; the attack on the U.S. Consulate in Benghazi; and the deaths of Osama bin Laden, Yassar Arafat, and ISIS leader Abū Bakr al-Baghdadi.
She reports daily from the Pentagon where she questions senior military leaders, travels to war zones with the Joint Chiefs and Secretaries of Defense, and details all aspects of military activities. Griffin secured major interviews with former Prime Minister of Israel Ariel Sharon in 2009, former Defense Secretary Leon Panetta in Baghdad on the day the Iraq War ended in 2011, and an exclusive interview with General David Petraeus in Kabul, Afghanistan in 2010 when he took over as the top US commander there. She reported extensively on the withdrawal of U.S. troops from northeast Syria and in August 2019, obtained the first interview with newly appointed then-Defense Secretary Mark Esper.
More recently, Griffin reported on the withdrawal of U.S. troops from Afghanistan and interviewed Chairman of the Joint Chiefs of Staff General Mark Milley from Ramstein Air Base in Germany.
Prior to joining FNC, Griffin covered the Middle East region for The Associated Press, National Public Radio and U.S. News and World Report. She also reported for The Sowetan newspaper in Johannesburg, South Africa, where she covered Nelson Mandela's prison release and historic moments in South Africa's transition away from the Apartheid regime.
Griffin received a B.A. in comparative politics from Harvard University in 1992. She is co-author of the book, "This Burning Land: Lessons from the Frontlines of the Transformed Israeli-Palestinian Conflict," which she wrote with her husband Greg Myre regarding their experience in Israel.
In addition to her many career accomplishments, Griffin is also an altruist and survivor of stage 3 Triple Negative breast cancer. She is a member of the Board of Directors of Prevent Cancer Foundation, an organization dedicated to cancer prevention and early detection. She is also an Advisory Board Member for Report for America, a program placing emerging journalists in under-represented places to cover under-reported issues. Griffin is involved with several organizations which serve active-duty military, veterans, and their families. She volunteers with The Independence Fund and has hosted the Wounded Warrior Experience, Heroes of Military Medicine Awards, and, for the last 14 years, has been the emcee for our very own Cause Gala.